My Blog
Posts for tag: snoring and sleep apnea
By Redwood Dental Health Center
November 27, 2012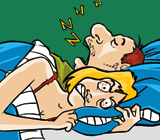 If you suffer from snoring or think you may have Obstructive Sleep Apnea (OSA), did you know that your dentist could play an important role in treating your condition? For most people this is surprising; however, we can provide both education and some treatment options. And as needed, we will work with your other healthcare professionals to get an accurate diagnosis so that you can improve both your sleep and your health.
Oral Appliance Therapy: These devices may look like orthodontic retainers or sports mouthguards, but they are designed to maintain an open, unobstructed, upper airway (tissues at the back of your throat) during sleep. There are many different oral appliances available but less than 20 have been approved through the FDA (Food and Drug Administration) for treating sleep apnea. Depending on your specific condition, we may use it alone or in combination with other means of treating your OSA. Here's how they work. They reposition the lower jaw, tongue, soft palate and uvula (the tissue in the back of the throat that dangles like a punching bag); stabilize the lower jaw and tongue; and increase the muscle tone of the tongue — unblocking the airway.
Continuous Positive Airway Pressure (CPAP): CPAP bedside machines generate pressurized air delivered through a tube connected to a mask covering the nose and sometimes mouth. Pressurized air opens the airway (windpipe) in the same manner as blowing into a balloon; when air is blown in, the balloon opens and gets wider. This treatment option is generally not used for snoring, but rather for the more serious condition, OSA.
Surgery: Specially trained oral and maxillofacial surgeons may include more complex jaw advancement surgeries. Additionally, an Ear, Nose & Throat (ENT) specialist (otolaryngologist) may consider surgery to remove excess tissues in the throat. It also may be necessary to remove the tonsils and adenoids (especially in children), the uvula, or even parts of the soft palate.
The first step towards getting a great night's sleep if you are a snorer that has never been diagnosed or treated for your condition is to obtain a thorough examination by a physician specifically trained in diagnosing and treating sleep disorders. And depending on the seriousness of your condition, he or she may strongly encourage you to participate in a sleep study. The results from this "study" can provide your dentist and other healthcare professionals with precise data about your snoring, breathing and sleeping habits. This information is key to treating OSA, if you are in fact diagnosed with this condition. Learn more when you read, "Snoring & Sleep Apnea." Or if you are ready for a thorough examination and to discuss your snoring, contact us today to schedule an appointment.
By Redwood Dental Health Center
February 07, 2012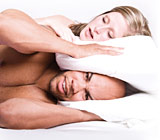 Nightly snoring can be a sign of a dangerous condition called sleep apnea (from "a" meaning without and "pnea" meaning breath). When someone snores the soft tissues in the back of the throat collapse onto themselves and obstruct the airway, causing the vibration known as snoring.
If the obstruction becomes serious, it is called obstructive sleep apnea, or OSA. In such cases the flow of air may be stopped for brief periods, causing the person to wake for a second or two with a loud gasp as he attempts to catch his breath. This can cause heart and blood pressure problems, related to low oxygen levels in the blood. The obstruction and mini-awakening cycle can occur as many as 50 times an hour. A person with this condition awakens tired and faces the risk of accidents at work or while driving due to fatigue.
Studies show that sleep apnea patients are much more likely to suffer from heart attack, congestive heart failure, high blood pressure, brain damage and strokes.
What can be done to treat OSA?
Snoring, apnea, and OSA occur more frequently in people who are overweight. So start with losing weight and exercising.
At our office, we can design oral appliances to wear while sleeping that will keep your airway open while you sleep. These appliances, which look like sports mouth guards, work by repositioning the lower jaw, tongue, soft palate and uvula (soft tissues in the back of the throat); stabilizing the lower jaw and tongue; and increasing the muscle tone of the tongue.
Another approach is to use a Continuous Positive Airway Pressure (CPAP) bedside machine. These machines send pressurized air through a tube connected to a mask covering the nose and sometimes the mouth. The pressurized air opens the airway so that breathing is not interrupted.
Much less frequently, jaw surgeries may be recommended to remove excess tissues in the throat. These would be done by specially trained oral surgeons or ear, nose and throat specialists.
Diagnosis and treatment of OSA is best accomplished by joint consultation with your physician and our office. Contact us today to schedule an appointment to discuss snoring and OSA. You can learn more by reading the Dear Doctor magazine articles "Sleep Disorders and Dentistry" and "Snoring and Sleep Apnea."