My Blog
Posts for tag: braces
By Redwood Dental Health Center
October 11, 2012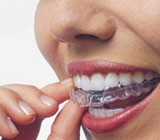 If you are dissatisfied with the way your smile looks, and your dentist is unhappy with the way your teeth fit together — but you don't like the idea of wearing braces — clear aligners may be your best solution. How much do you know about this teeth-straightening alternative? Below are some FAQs on the subject.
What do we mean by clear aligners? Clear aligners are a system for straightening teeth that uses clear plastic removable "trays" that fit over your teeth. As the teeth move to fit the trays, new trays are substituted that are designed to continue to move your teeth into the desired position. This system is an alternative to the traditional system of brackets and wires known as braces.
How can teeth be moved to new positions? The connection that holds a tooth in place in your jaws — the periodontal ligament — is not immobile. It constantly changes its position based on the normal forces of your bite. As the ligament is pushed on one side and pulled on the other, the living cells of your mouth respond by depositing bone and cementum (the protective covering of the tooth's root) on one side and dissolving it on the other. Normally this happens in a balance, maintaining your teeth in their position. We can manage these slight changes by applying constant light forces to move teeth in a predictable way.
How long does it take to move teeth to their optimum position using clear aligners? As with braces, the process is gradual. Total treatment time can range from six months to two years.
Do the trays have to be worn all the time? As you move through the sequence of trays, each is worn for 20 hours per day for two weeks. They may occasionally be removed for important social occasions.
How does an orthodontist design the sequential trays that are used? The trays are designed using a computer, based on an assessment and images of your mouth, teeth and jaws.
What kinds of problems can clear aligners correct? This method works well to correct mild to moderate crowding or spacing. If your back teeth already fit together as they should, the system may be ideal. If you have an extreme overbite or underbite, braces might work better.
Are clear aligners an alternative for everyone? Clear aligners are recommended for adults and recently, teenagers. They are not usually recommended for young children.
Why is it important to have your teeth straightened? Besides the obvious benefit of feeling better about yourself and your appearance, straight and well-aligned teeth work better. You will experience a better-functioning bite and can improve your oral health.
Contact us today to schedule an appointment to discuss your questions about orthodontics and clear aligners. You can also learn more by reading the Dear Doctor magazine articles "Clear Orthodontic Aligners" and "Moving Teeth With Orthodontics."
By Redwood Dental Health Center
June 14, 2012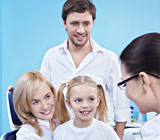 We in dentistry, advise parents to have an orthodontic evaluation some time before your child is 7 years of age. At this time, some of your child's adult teeth have come in and some primary (baby) teeth remain. This is a good time to check for developing problems. Treatment that begins while your child's teeth are coming in is called "interceptive orthodontics." It provides an opportunity to achieve the best results in orthodontic treatment.
Once this evaluation takes place, it may mean that orthodontic treatment may need to take place in two-stages. A first phase of orthodontic treatment may prevent, intercept or minimize future orthodontic treatment. The first stage may be a process of guiding the growth of the jawbones that support the teeth. This is called "growth modification." Then when the adult teeth have erupted through the gums, it may be time to do the second and final stage.
If a second phase of treatment is necessary it will probably require braces. These are small metal brackets that are bonded to the teeth. Thin flexible wires are threaded through them, and the wires are designed to push or pull on the teeth to provide a small amount of pressure that makes the teeth slowly reposition themselves within the jawbone. A light and controlled force pulling on a tooth causes new bone and ligament (the fibers that hold teeth in place) to be formed. These are living tissues that are constantly changing and remodeling themselves.
If you wait until your child's permanent (adult) teeth have all come in to start this process, it will be too late to correct some types of orthodontic problems, such as some types of malocclusions ("mal" – bad, "occlusion" – bite). It's better to work together with your child's stages of growth and development in order to have an optimum correction, both in looks and function.
You may be wondering whether a two-stage treatment costs twice as much. In fact, it is likely to be less expensive than a late one-stage treatment would be. Sometimes, the first stage may correct an underlying problem and make further treatment unnecessary. If a second phase is needed, it is likely to be easier and less costly.
Contact us today to schedule an appointment to discuss your questions about orthodontia for your child. You can also learn more by reading the Dear Doctor magazine article "Preventative & Cost Saving Orthodontics."